Confessions of a Book Addict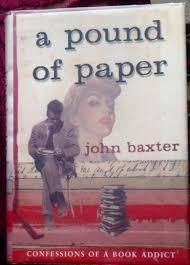 A Pound of Paper: Confessions of a Book Addict
by John Baxter

John Baxter is an Australian novelist, broadcaster and film critic. This book is his story of growing up in 1950s rural Australia when reading books was regarded with suspicion and owning or collecting them was an unheard of eccentricity.

His tales of scouring junk shops, market stalls and auctions will make you smile and his journey from the back of beyond to a penthouse in Paris kitted out with a book collection worth millions will impress you.

His mania for collecting took him all over the world and brought him (and therefore you) into contact with Graham Greene, Kingsley Amis and Ray Bradbury, to name but a few.

Get yourself a copy - it's amusing, well written, very readable and irresistible for anyone who likes books.