Christmas Trees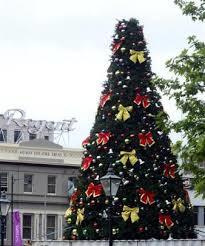 The Christmas season is nearly upon us. It probably already is upon us for some. All those here in Dunedin have no doubt been following the lively discussion about the Christmas tree in the Otago Daily Times. I should more accurately say argument really. It has been very much in the news both in Paul Gorman's What's With That and in letters to the Editor.

For those not reading the ODT, the problem is the message around the tree which reads "Happy Holidays" instead of "Merry Christmas". The owner of Hard to Find Books agrees it should mention Christmas. It is, after all, a Christmas Tree and not a holiday tree. He rightly says that Diwali and Matariki (and others) are referred to by their correct names. There is no suggestion they cause offence or that they should be changed. Likewise Christmas.

He believes it so strongly that he has offered to pay to have the sign changed. Watch this space (and the tree in the Octagon) to see if he is successful or not.