Childhood's literary characters from a different perspective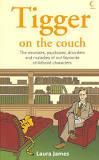 Diagnoses
Tigger: ADHD predominantly hyperactive
Mad Hatter and March Hare: Shared Psychotic Disorder
Cinderalla: Approval Addiction
Goldilocks: Antisocial Personality
Big Bad Wolf: Psychopathy

Intrigued? Then you need a copy of
Tigger on the Couch: The Neuroses, Psychoses, Disorders and Maladies of our Favourite Childhood Characters
by Laura James

Dedicated to "all those bravely battling a psychological disorder and to the professionals who work tirelessly to help them" this inventive approach to personality disorders makes a valuable contribution to destigmatising mental illness.

It is not a psychiatric textbook; it is accessible and appealing to everyone. It reveals how fairy tales can teach behaviour and values that children should avoid; it also shows how fairy tales can highlight core values and attributes that children should emulate.

This is a fascinating read and may well send you back to scrutinise the flaws, problems and behaviour of the characters in your own favourite childhood books.