Art and bookshops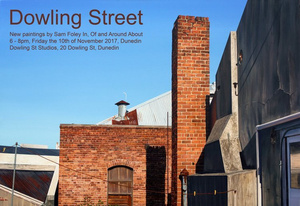 There is a lot to be found at 20 Dowling Street. On the ground floor sits the Milford Gallery with lovely windows out onto the street so you get a peek at their current exhibition. On the floor above the Gallery is the wonderful Hard to Find Bookshop where you are always welcome to pop in and browse. On the floor above the bookshop are some artists' studios.

One of these studios belongs to the well known Dunedin painter Sam Foley. He is not only a good upstairs neighbour but he is also a very good artist who is about to have an exhibition. If you are not familiar with his work, you are really missing something. The image on the right of this piece is not a photograph - it is one of Sam's amazing works, a lifelike representation interpreted subtly and uniquely by Sam's eye and hand.

His latest exhibition is called Dowling Street: Paintings In, Of and Around About. You can visit it at his studio (20A Dowling Street) this weekend Sat 11th and Sun 12th November between 12 and 2pm or from Monday 13th to 30th November at the Artist Room Gallery, 2 Dowling Street.