An un-put-down-able New Zealand novel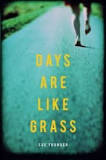 Sue Younger's
Days are Like Grass; A Novel

This is a novel about the wounds a family can make; about a woman caught between the past and the present and about her need to keep everybody safe. Especially herself

A beautiful New Zealand summer. An ugly past that won't stay buried. Paediatric surgeon Claire Bowerman has returned to Auckland from London. She loves her job repairing her small patients' wounds; tragically, wounds sometimes made by the children's own families. Her partner wants to marry Claire. He thinks New Zealand is the safest place on earth, worlds away from the violence he knew growing up. But Claire's daughter is full of questions about their past. When a family refuses medical treatment for their boy, Claire's story is in the headlines again. (Copied that from the blurb on the back of the book)

This should be a good read so I'm taking a copy home for the weekend hoping for some sun and some reading time in between the gardening tasks!