Amazing Survival Story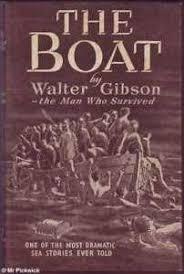 The Boat
by Walter Gibson

This book tells the story of one of the most astonishing instances of human endurance and what must be one of the most terrifying episodes in maritime history.

Just after the fall of Singapore in 1942, a Dutch ship the Rooseboom sailed from Padang with 500 evacuees, mostly British civilians and soldiers. She was torpedoed in the dead of night on the way to Ceylon and sank within a few minutes.

Only one lifeboat floated and 135 people crowded into it with only enough room to stand upright. They were adrift with almost no food or water for 28 days until it washed up on the shores of an island off Sumatra. Only four were still alive. One of them is the author of this book and he recounts his miraculous survival and the journey of horror, heroism, tragedy, murder, and treachery.