Advice to a Young Lady in the Colonies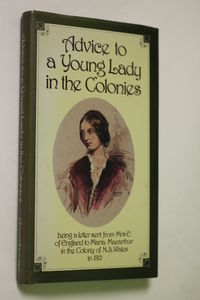 This great little book is the transcript of a letter written to a young woman living in New South Wales in 1812.

It contains menus, recipes, household hints and other advice, including when it is and isn't acceptable to serve certain meals, proper dining table etiquette, and how to keep the servants in line.

It gives a fascinating insight into home life and social expectations in the early 1800s. Most sounds dated now but there is some great advice as well, such as this snippet on how to serve a proper breakfast:

"Breakfasts of company are not usually given before 1 o'clock, and it is customary to put wine in small decanters on the table … so that the breakfast is turned into a tolerable dinner"

Accompanying this is a sketch of how the breakfast table should be laid out - a lavish spread of meat and seafood, bread and butter, fruit and nuts, eggs, chocolate, and of course, wine!