A cookbook with a difference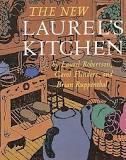 Do you buy cookbooks because of the lovely glossy pictures and "lifestyle" photography? If you answered yes then this book is not for you.

Are you one of the few remaining old-fashioned cooks who buys cookbooks because of the recipes and other food-related information? If you answered yes then this book is for you.

The New Laurel's Kitchen: A Handbook for Vegeterian Cookery & Nutrition
by Laurel Robertson, Carol Flinders, and Brian Ruppenthal

Think delicious recipes, menu suggestions, wholesome cooking, fat reduction without loss of flavour, energy-yielding nutrients, cooking for pregnancy, diet against disease, vitamins, minerals and more.

This book bills itself as the complete cookbook and reference for the whole-foods kitchen and is recommended to both professionals and nonprofessionals.

It's a double whammy - all the recipes as well as plenty to read and learn when you aren't in the kitchen.