A Must for the Races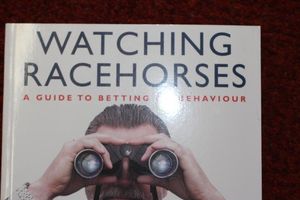 Going to the races at New Year? This is the book you need before you go:-

Watching Racehorses: A Guide to Betting on Behaviour by Geoffrey Hutson

This is a book for all racegoers. Wether you are a regular punter, an owner, a trainer, a horselover or a once-a-year wild-day-out-at-the-races partygoer, you need a copy of this book.

It describes how to pick winners based on observations in the mounting yard. Geoffrey Hutson started out with dismal failure (he only picked losers) and from that experience and thousands and thousands of hours of observation, he developed and perfected methods for picking winners. His analysis concentrates on the behaviour patterns of horses and how the behaviour influences performance.

Once you've read this book and its guide to betting,going to the races will never be the same again. Pop into the shop and get a copy so that your next visit to Wingatui produces fistfuls of winnings. At only NZ$10.00 per copy for a brand new book, you really can't go wrong. Bet on a sure thing!