A Literary Book of Days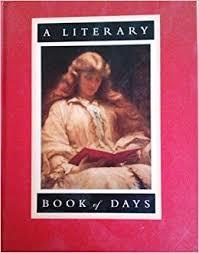 The perfect book with which to start any new year. You can use it as a diary but it also has literary entries for every day of the year so you could just refer to it daily for some snippets of information of a literary bent. It would make an unusual and thoughtful present for New Year's Day.
January 11th: 1963 Sylvia Plath committed suicide.
April 25th: 1826 Byron left England for exile in Europe / 1873 Walter de la Mare born.
August 10th: 1912 Virginia Stephen married Leonard Woolf.

There are also quotes on many days (sorry to get back to that theme again):
September 16th: 1926 Max Brand talking about writing Westerns "There has to be a woman but not much of one; a good horse is much more important."
August 22nd: 1893 Dorothy Parker born two or three months premature. She later said "It was the last time I was early for anything."