A Forger's Tale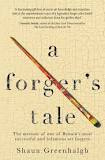 Shaun Greenhalgh was sentenced to four years and eight months' imprisonment in 2007, having been convicted of forgery. He had been working in his parents' garden shed for years producing artistic forgeries which were good enough to fool some of the world's great museums and galleries.

At the time of the trial, the breadth of his forging operation shocked the art world. However, what no-one realised was how much more of his story was yet to be told. He had been successfully passing off everything from Leonardo drawings to Lowry paintings and Hepworth sculptures to Anglo-Saxon jewellery, He wrote this book while he was in prison.

A Forger's Tale: The Memoir of One of Britain's Most Successful and Infamous Art Forgers
by Shaun Greenhalgh

By all accounts, it is a witty, charming, honest memoir which will fascinate the reader and throughout which the author's genuine love of art shines.