A Clockwork Orange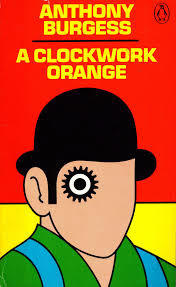 Stanley Kubrick's or Anthony Burgess's A Clockwork Orange

If you were listening to National Radio this week, you might have heard an interview wth a very successful New Zealand cheesemaker. While discussing his training and work experience, he mentioned that he had had a spell at a cheesemaker's in Childwickbury, which is the tiny Hertfordshire village where Stanley Kubrick lived. . . .

. . . . which brings me to today's book: A Clockwork Orange by Anthony Burgess. Many people have seen the film by Stanley Kubrick but not read the book and it is worth reading. Why not pop in to the shop and grab one of the few remaining copies we have in stock - they are usually quite hard to come by and sell very quickly.

It is billed as a dystopian satirical black comedy - but don't let that put you off. It's an unusual and interesting read even though it is now well over 50 years old.